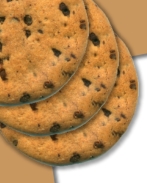 Kidsjellybean Recipes
WWW.KIDSJELLYBEAN.COM
Bubble Pizza
Equipment
Baking pan
Mixing bowl
Knife
1 cup measuring cup

---
Ingredients
2 tubes ready made Biscuit dough
2 cups spaghetti or pizza sauce
Shredded cheese
Any pizza topping
---
Cut each Biscuit in 4 pieces(total 80 chunks) and place in a mixing bowl.
Add 2 cups sauce and any favorite pizza toppings such as:
cooked meat (Hamburger, sausage, bacon)
olives
onions
peppers
mushrooms
Pepperoni, ect
Turn into greased baking pan and bake 20 min. at 325 degree's.
Place choice of cheese on top and return to oven just till melted. Cut and eat.