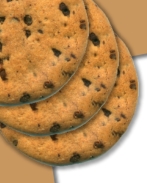 Kidsjellybean Recipes
WWW.KIDSJELLYBEAN.COM
Chocolate Nests
Equipment
Microwave Bowl
Stirring spoon
Wax paper
Baking sheet or platter
---
Ingredients
6 square semi-sweet chocolate
1 cup butterscotch chips
2 cups canned chow mien noodles OR
1 cup salted/roasted peanuts
Garnish with jelly beans
---
1) Melt 6 squares chopped semi-sweet chocolate with 1 cup butterscotch chips in microwave on MEDIUM for 3-4 minutes or until almost melted; stir until smooth.
2) Add 2 cups canned chow mien noodles and if desired 1 cup salted, roasted peanuts.
3) Drop heaping tablespoons onto wax paper-lined baking sheets, slightly indenting center with spoon or finger.
4) Fill centers with candies as desired. Chill until set. Store in airtight containers in refrigerator.