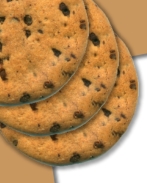 Kidsjellybean Recipes
WWW.KIDSJELLYBEAN.COM
Chocolate Wreaths
Equipment
Large sauce pan
Wood or stirring spoon
Wax paper

---
Ingredients
1 stick margarine
1 bag miniature marshmallows
green food coloring
3-4 cups corn flakes
red hots candy
---
In large pan, melt margarine over medium heat.
When melted add entire bag of marshmallows. Stir until totally melted.
Reduce heat. Keeping mixture on stove, add 2-4 drops of food coloring and stir until all marshmallow mixture green.
Then add corn flakes a cup at a time. Stirring until all corn flakes are coated with mixture.
It is important to keep mixture over stove so it will not cool off and get stiff.
Transfer a spoonful of mixture onto wax paper, spoonful size depends on what size you would like the wreaths to be.
After you have transferred all of the mixture to the wax paper, decorate tops with the red hots candy.
Let cool for about an hour and then serve.