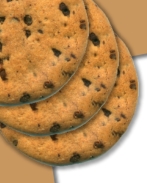 Kidsjellybean Recipes
WWW.KIDSJELLYBEAN.COM
Cracker Candy
Equipment
Cookie sheet
Sauce pan
Mixing spoon
---
Ingredients
35 to 40 Saltine Crackers
1 16oz package of chocolate chips
1 cup butter or margarine
1 cup brown sugar
1 cup chopped walnuts (optional)
---
Line a greased 9X13 cookie sheet with crackers, one layer thick only.
Melt butter in sauce pan. Add brown sugar and stir until sugar is melted, blended, and bubbly.
Pour over crackers. (Crackers will float)

Place in preheated 350 degree oven for 10 minutes. Remove.
Add chocolate chips to top, spread until melted evenly over crackers.
Add nuts if desired. Bake again for 15 minutes. Remove and cool.

Cut into squares and ENJOY!