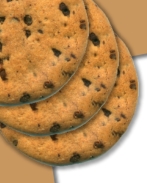 Kidsjellybean Recipes
WWW.KIDSJELLYBEAN.COM
Dirt Dessert
Equipment
2 mixing bowls
Electric mixer
Unused clean small flower pot
Spoon
---
Ingredients
2 small pkg. instant pudding
3 1/2 cup milk
1 tub frozen whip topping
1/2 cup margarine
8 oz. cream cheese
1 cup icing sugar
1 small bag Oreo cookies (crushed)
12 gummy worms
---
Mix pudding and milk until thick. Add whip topping, set aside.
In another bowl cream together cream cheese, icing sugar, margarine. till smooth.
Then add to pudding mixture, beat on med. speed until well blended.

Prepare in a flower pot, alternate start with pudding mixture, cookie crumbs, worms.
End with cookie crumbs so it looks like dirt in the pot.

Refrigerate 1 or 2 hours. Insert some plastic flowers so it looks like the flowers are growing in the pot.